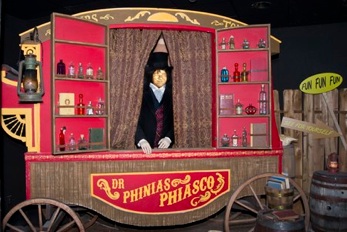 DR. PHIASCO'S CARNIVAL OF CURIOSITIES
Scripting and Back-story development for attraction.
Character - Rear projected talking video head, welcomes & introduces the attraction.
[See Scenic Design for more about our complete set & prop designs for this attraction]
CUSTOMIZED SCRIPTING
Want to capture your customers attention? Make them laugh? Or perhaps you need to "educate while entertaining" your customers - Imaginart' Studios can help create the right show for you!
Whether you need some humorous banter between two lovable characters, or an appropriate character voice welcoming guests to your attraction - Let us help to personalize your guests experience. Give us your script ,or work with us to make the magic happen!
INDIVIDUALIZED AUDIO & VIDEO
Enhance your themed attraction with that perfect character and soundscape to guide them along on their adventure.
Make your adorable mascot come to life. Whatever your needs - we can make it happen.
At Imaginart Studios we pride ourselves at finding the most intriguingly perfect combination of entertaining and creating an all inclusive, and immersive, experience for your guests.
In fact, our characters are known to develop their own following - as costumers come back time and again, just to visit their new friends.